The rising temperatures and the aromas of mango's in our homes tell us just one thing – Summer vacations have begun! Typically, this used to be the most fun part of the year, atleast for the kiddos! Weeks of weekend trips, visits to grandma's house, outdoor playtime, hobby classes, summer camps, board games… the list was long.
Now with the pandemic induced lockdowns, each day seems to be no different from the other as the weeks drag on. If you don't add some variety to their daily routine, your kids are bound to get bored and hence frustrated. To avoid this lethargic state of mind, it is advisable to plan a few educational and fun activities in advance. Such activities help you by:
It gives children a break from the routine – a feeling of doing something fun during the vacation
It keeps them creatively engaged – they will definitely land up learning a handful of skills
It will reduce their screen time during the day – bonus!
This can become a family bonding time for everyone
It will maintain a cheerful atmosphere at home – which is much needed as we tend to get bogged down by the news around us
Okay enough of the general knowledge. Here is the fun part! Scroll own to find 6 amazing, easy and totally fun DIY activity ideas – all manageable indoors!
1.Games night: Organize a games night (or a games week?) for all members of the family:
-Let children create invitation cards for the games night – they can draw the games of their choice, mention the date, time and venue
-If they enjoy role play, let them enact story books like Zooboo's 'Bo-peep' and 'Birthday' book where they can assign characters to each family member. The child can even be the narrator. Click here to order your personalized Zooboo books right away.
-Other great games are charades, Pictionary, sequence for kids, scavenger hunt etc.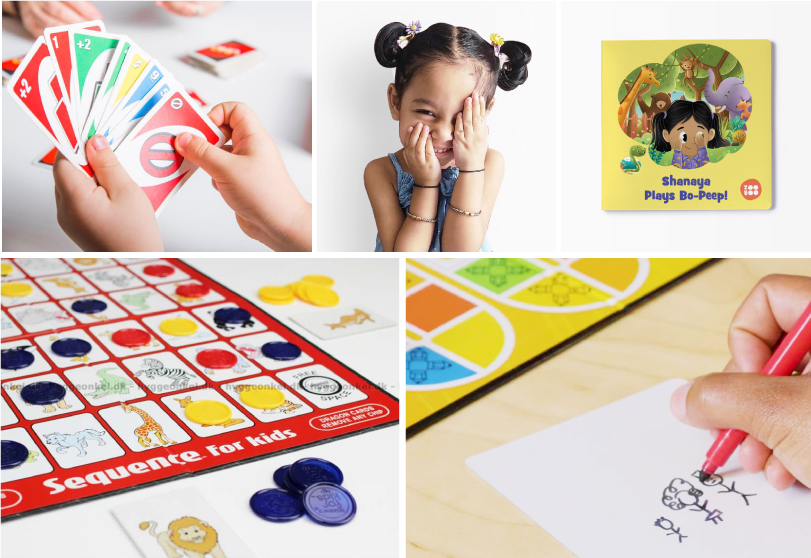 2. DIY Trash art: Free form of art is a great way for children to express themselves. Find some recycled material and let children paint and glue them on their own:
-Find some recycled materials like packets, unwanted papers, cans, thread, egg holders, bottles and bottle caps etc.
-Also provide them with some art supplies like glue, paints and crayons.
-Children love painting random objects and making unique creations out of them.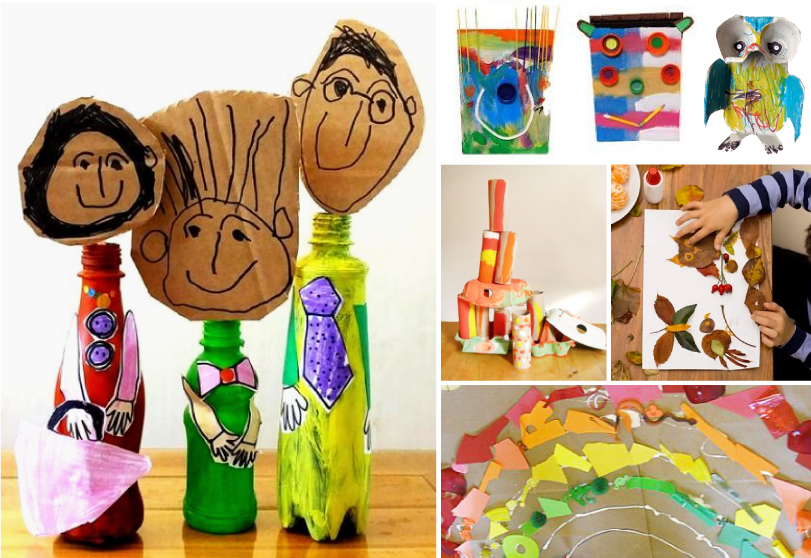 3.Obstacle course: A great way to channelize your kids pent up energy is by creating an obstacle course for them. Here's how:
-Use pillows as stepping stones
-Create tunnels with chairs and tables
-Use cushions to climb over
-Stick masking tape on the floor in a zigzag pattern for them to walk on
-Tie a rope for them to jump over
-Just let them crawl, jump, skip, hop, run!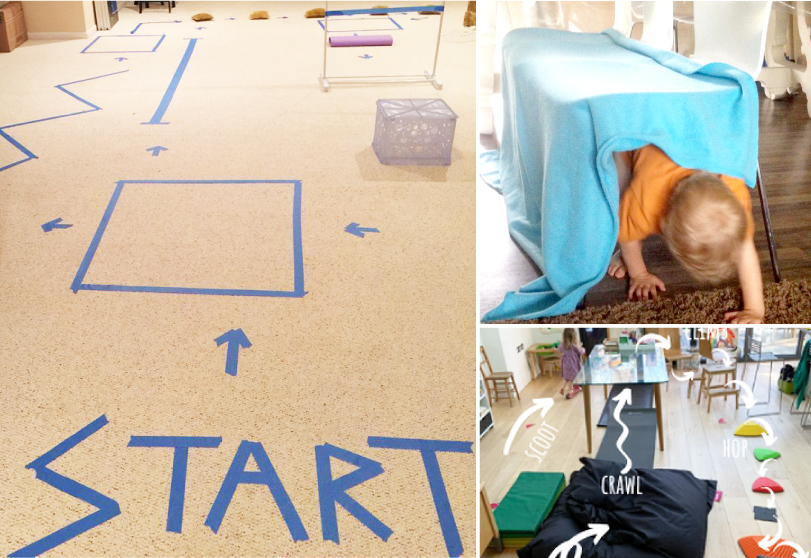 4. DIY planters: Introduce your kids to the world of plants. Make a recycled tin can planter to teach them how to take care of their plants. For added fun, let them create bottle cap flowers to decorate their garden.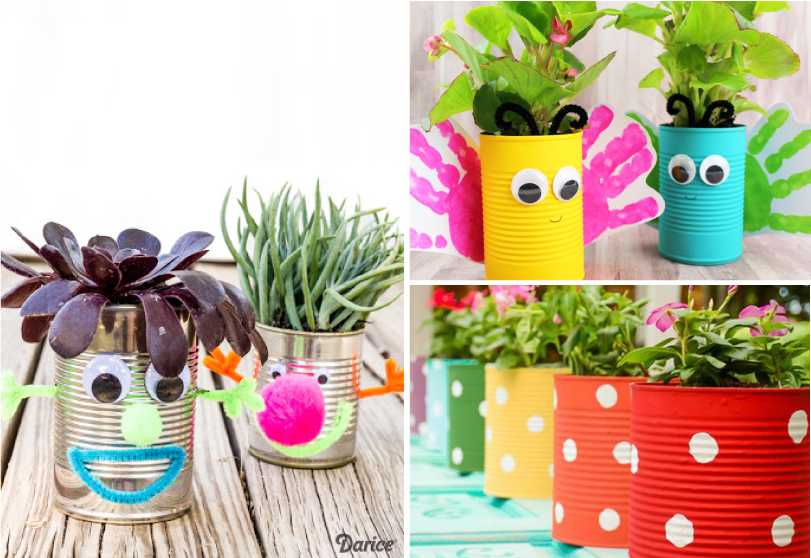 5. Sensory bins: Sensory bins are large containers filled with elements that stimulate a young child's senses. These bins help focus and calm your child and teach them to explore the world with the help of their senses.
-These are perfect for the younger kids and the slightly elder siblings to play together
-You can come up with unique themes like seasons, creepy crawlies, different grains & pulses, sea creatures, types of textures etc.
-Take 3-4 large containers and fill them with a mix of objects and toys. Place toys like a shovel, magnifying glass, spade etc in the box too.
-Let them explore and have fun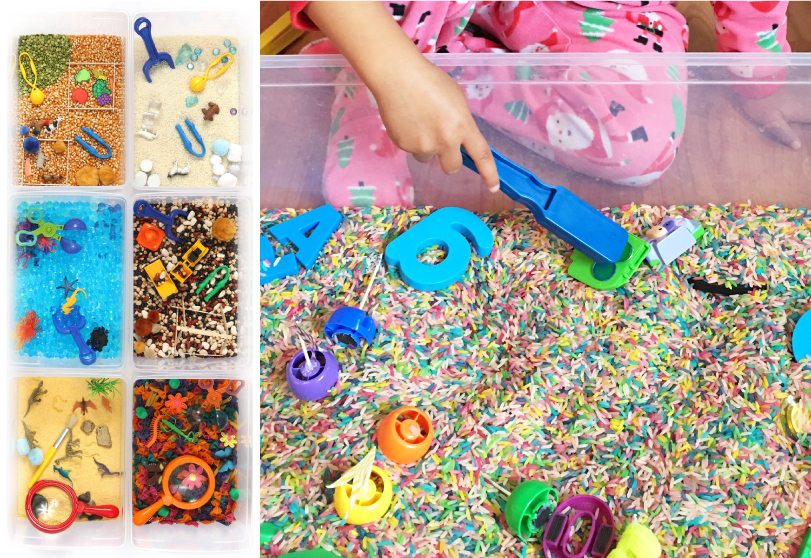 6. Science experiments: Enjoy some easy science experiments with common household ingredients. Every kid loves these and you can do a mix of them for kids of all age groups:
– Try making a volcano by using soap, vinegar and soda. Check it out here.
– Use paper napkins and food colours to create a 'walking water' experiment. Check it out here.
– Use glue, soda and contact lens solution to make slime. Check it out here.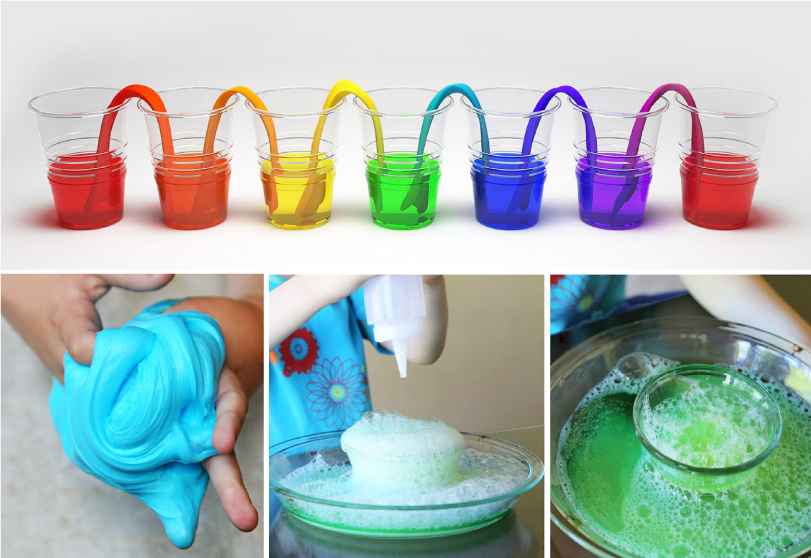 Bookmark this article for future reference and feel free to share it with fellow parents! Did you try these activities? Did your kids enjoy? What new projects did you try this summer?
Follow us and tag @zooboostory on social media to share your summer activity plans! Let us create a fun knowledge sharing platform that can benefit kids as well as parents!
Zooboo does not own rights to any of the activity images. They are used for representation purpose only.
Image sources: www.katiemorissart.com, www.alumnoon.com, www.meijer.com, www.shuttershock.com, www.boardgamer.no, www.dyicrafti.com, www.almeezan.co.uk, www.ishouldbemoppingthefloor.com, www.growingajeweledrose.com, www.pinterest.com, www.willowot.com, www.craftymorning.com, www.messyplaykits.com, www.happytoddlerplaytime.com, www.funathomewithkids.com