On this International Daughter's Day (September 26th 2021), let us shower our beloved little girls with all the love, blessings, nourishment & gifts that we can as they embark on their journey towards becoming independent global citizens of tomorrow. Here is a sweet little deal to help you brighten up your daughter's weekend:
!! EXCLUSIVE DEAL FOR BIBA SHOPPERS !!
Shop with BIBA Girls from September 24th-26th & win a FREE personalized Zooboo storybook!

What is Zooboo… and what exactly is a personalized storybook?
About Zooboo
Born out of the love for story-telling, Zooboo (www.zooboostory.com) allows you to personalize your kid's storybook with their name! Discover high quality storybooks written by India's award-winning authors. All books include stunning illustrations & a host of concepts like opposites, colours, shapes, descriptive words, animal sounds, animal features, emotions, family bonding and more.
You can personalize each book with your daughter's name which will reflect on the cover page as well as throughout the storybook, thus making her the STAR of her book. You can also customize the character as a girl. Personalize 10+ book titles from award-winning Indian authors on www.zooboostory.com. All the books are age-appropriately written for 0-9 year olds and can be ordered in 5.5"x5.5" or 8"x8" size in softcover or hardcover formats. Each book has rounded edges for child safety.
Steps to order your FREE Zooboo book:
After your completing your purchase with BIBA you will receive an SMS with the free book coupon code.
Log on to www.zooboostory.com & select the book of your choice based on your child's age & interest.
Here, you can add their name, pick the character, select the book type & preview the entire story as well
To finish your order you will be directed to www.zoomin.com where you would need to register
At checkout, apply the coupon code (sent in an SMS to you by BIBA). The 5.5"x5.5" softcover storybook worth Rs. 399 is FREE for you, enjoy!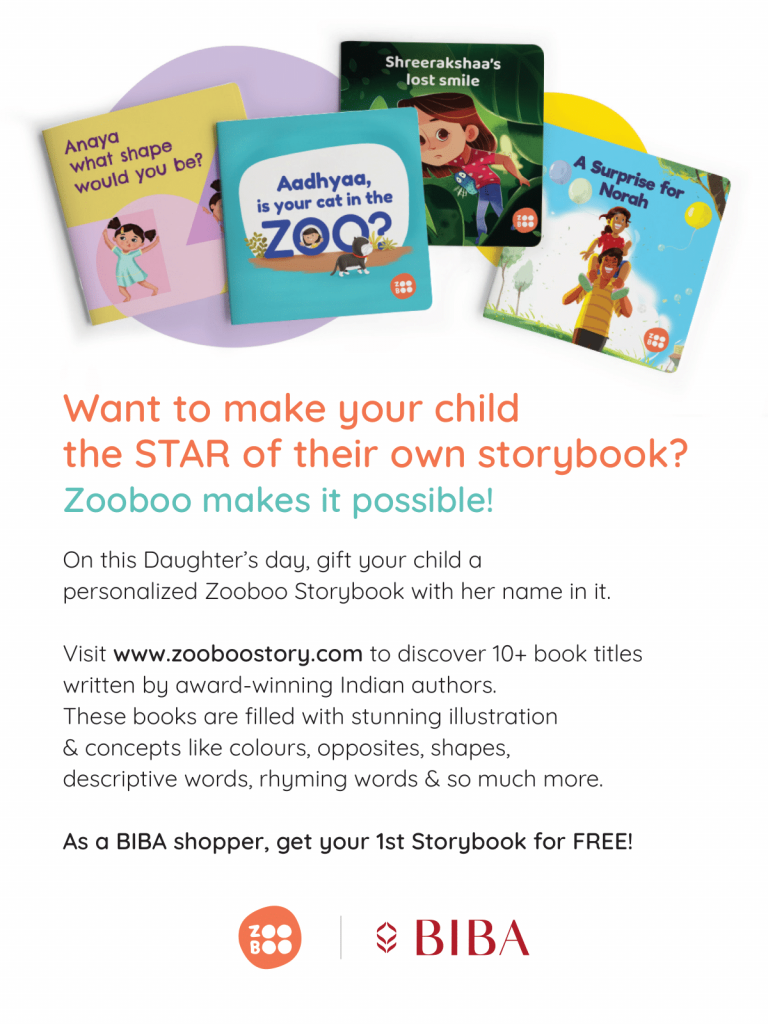 Terms & Conditions:
Complete your purchase with Biba to be eligible for the free storybook. Coupon code sent to you by Biba will give you a discount of Rs.399 on Zooboo website thus making the 5.5"x5.5" softcover storybook free. Add Rs. 100 to upgrade to a hard cover book & Rs. 200 to upgrade to the larger size of 8"x8". Shipping charges will be applicable. Coupon code can't be combined with any existing offers on www.zooboostory.com. You will need to log in to www.zoomin.com to complete the purchase of your book.
Order your books today & enjoy the magic of personalized storybooks!